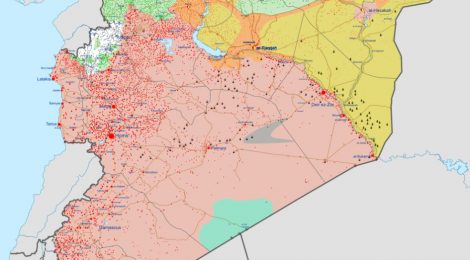 Syrian War Violence Targets American and Russian Troops
The complex Syrian War continues to involve multiple nations, as violence hit American troops in Syria, as well as Russian forces.
On August 17, at about 9:20 AM, American and Syrian Democratic Forces (anti-Assad Syrians supported by the U.S.), were passing through a Syrian military checkpoint in eastern Syria near Tal al-Zahab, when they came under small-arms fire from Syrian troops. The American soldiers returned fire and inflicted casualties on the Syrians. American helicopters were flying overhead, but apparently did not engage the hostiles. The United States military spokesman said U.S. troops did not suffer any casualties.
🔴On 8/17, @CJTFOIR & @cmoc_sdf, conducting a routine anti-ISIS security patrol near Tal Al-Zahab, encountered a checkpoint occupied by pro-Syrian regime forces…the patrol [was attacked]. Coalition troops returned fire in self-defense. No Coalition casualties. Full Statement 👇🏽 pic.twitter.com/3qWFrZh1wR

— OIR Spokesman Col. Myles B. Caggins III (@OIRSpox) August 17, 2020
The United States maintains several hundred troops in eastern Syria as part of the ongoing campaign against the Islamic State in the region. There have been several incidents over the past few years between Syrian government forces and their allies and associated mercenary groups and the American troops in the area.
Also, further west in Syria, a Russian Major General was killed when the convoy he was riding in was hit by an improvised explosive device (IED). Two other Russian soldiers received wounds in the explosion.
The Russian convoy was travelling from Deir er-Zor province in eastern Syria to the Russian military's Hmeimim base further to the west.
Also, the day before, a joint Turkish-Russian patrol in Idlib region of northwestern Syria was hit by a similar IED explosion, but that attack did not generate casualties. ISIS is still heavily engaged in guerrilla warfare against all foreign forces in Syria, as well as against both the Syrian government and most of the rebel forces.
Russian forces are in Syria in support of the Assad regime, while American troops are supporting the anti-Assad Syrian Democratic Forces, and Turkey is backing the Free Syrian Army.