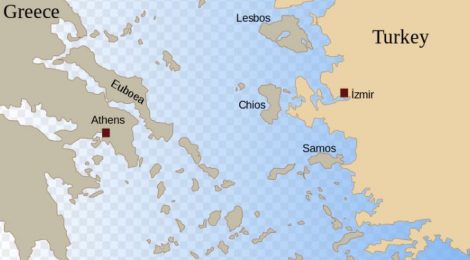 What if Greece and Turkey Go To War?
The maritime dispute between Greece and Turkey in the eastern Mediterranean Sea is the most public and most serious near-war instance between these two old enemies in nearly 45 years. What happens if they actually fight and a new Greco-Turkish War breaks out?
It comes down to intentions. What is Turkey's leader, Erdogan trying to accomplish? What does the Greek government want. Clearly, both want control over what are believed to be major oil and natural gas deposits in the seabed of the disputed area, which is located between the Greek island of Crete, and the island nation of Cyprus. But also, other than the economic factor, both governments can not be seen as backing down to the other, again, in large part due to the long history of Greek-Turkish conflict.
If a shooting war does break out, who has the advantage? Turkey has the larger and more modern navy, while Greece has a better air force. Turkey's army is larger, and has combat experience from their long guerrilla war against Kurdish rebels in eastern Turkey and from Turkish army incursions against the Kurdish bases in northern Iraq and northern Syria. Also, in the past few years, Turkey has fought battles against the Syrian Army, and has developed very successful tactics in the use of military drones. In addition to combat in Syria, Turkey also has troops on the ground in Libya, in support of one Libyan faction, which is battling another Libyan faction that is backed by Egypt, France, and Russia. Turkish drones in Libya have had a significant impact on the war there, though this intervention has caused serious issues with both Egypt and France.
In an all-out Greek Turkish war, expect to see intense aerial combat over the Aegean Sea between the two air forces, and naval action in the disputed part of the Mediterranean. The two sides share a narrow border, but historically, that border is heavily armed and defended, and may not be the best use of Turkey's larger army. If the Turks are thinking strategically, an effective use of their larger army might be to quickly seize control of several Greek islands that sit just off the Turkish coast and then use the captured territory and captured Greek populations to negotiate control of the resource-rich seabed. That type of island assault would be predicated on achieving naval and air superiority in the area of the islands. Greece has a lot of territory to defend in terms of their Aegean islands, and the Turks could concentrate their forces on one or two key targets, such as the island of Rhodes, which has a little more than a 100,000 Greek civilians on the island.
France is backing Greece in the maritime dispute, and, if a shooting war breaks out, the French, who do have a relatively powerful navy and air force, may become involved against Turkey. Depending on who fired the first shots, either nation could try to invoke Article 5 of the NATO defense treaty, which stipulates that an attack on one member is an attack on all. (NOTE: France is also a member of NATO). An outbreak of war in the Aegean and the Med may also prove a large temptation to Egypt to launch an offensive in Libya to end the standoff between the two sides to take advantage of Turkey's distraction if there is war with Greece. Fighting might also spread to Cyprus, which was invaded by Turkey in 1974 and is still divided between a Turkish-majority northern part of the island, and the Greek-majority southern two-thirds of the country.
A war between Greece and Turkey, especially if it also involves France, Cyprus, Egypt, or other NATO nations would be a disaster of huge proportions. Germany is attempting a mediation, but with a long history of wars between Greece and Turkey, and the ill feelings the populations of each nation have for each other, it is likely that neither government will feel they can back down in the face of this crisis.
FOLLOW Historyguy.com War and Conflicts News on Twitter and get the latest updates on this and other world conflicts.