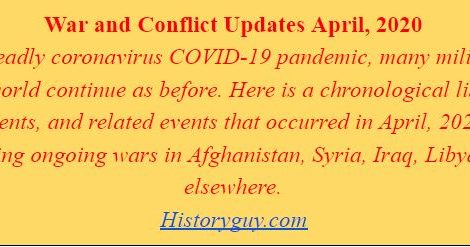 War and Conflict Updates April 2020
On Wars in Afghanistan, Yemen, Libya, Syria, Africa, and Around the World
While much of the world's attention and energy are focused (and rightfully so) on the deadly coronavirus COVID-19 pandemic, the many ongoing wars and military conflicts around the globe have not stopped. Indeed, some analysts predict further political and social disruption as the pandemic and the resulting quarantines, lockdowns, and closures.
Here is a chronological list of military attacks, incidents, and related events that occurred in April, 2020 around the world, including ongoing wars in Afghanistan, Syria, Iraq, Libya, Yemen, and elsewhere. Also, information on the alleged incapacity of the North Korean leader is found here.
April 1-Libyan War: Turkish warship fires missiles at forces of General Haftar in Libya. Turkey has recently begun a military intervention in Libya in support of the internationally-recognized Government of National Accord (GNA) in the GNA's war of survival against the Libyan National Army (LNA) of General Haftar.
See also: https://www.middleeastmonitor.com/20200401-libya-turkey-warship-fires-missiles-on-sites-controlled-by-haftar-militias/
https://thearabweekly.com/libyas-gna-receives-limitless-turkish-supplies-faces-locals-hostility
April 4-China sinks Vietnamese fishing boat in South China Sea near Paracel Islands. Vietnam, China, and several other nations claim control of a stretch of the South China Sea that may contain oil reserves worth several trillion dollars.
April 4-Terrorist-inspired knife attack in France.
April 4-Mexican Drug War: Shootout between rival drug gangs in Chihuahua, Mexico kills 19.
April 6-Mali War: Gunmen on motorbikes attack a military base in Bamba, Gao, Mali, killing 25 Malian soldiers.
April 9-Yemen War: Saudi coalition in Yemen War declares COVID-related ceasefire.
April 9-Afghanistan War: ISIL/ISIS forces in Afghanistan claimed responsibility for launching a rocket attack on Bagram Air Base near Kabul.
April 10- ISIS War: U.S Air Force flies the new F35 Lighting II fighter over Syria, in as apparent show of force to both ISIS militants and to Russian forces in Syria. The F35 is the latest American stealth fighter. Both the British and Israeli air forces have the F35 and both have conducted air strikes inside Syria in recent years with their F35s. Israel reports that they believe that the F35 is effectively invisible to Russian and Iranian radar systems in Syria.
See also: https://sofrep.com/news/american-f-35s-overfly-special-operations-bases-in-syria/
A USAF F-35A Lightning II fighter jet flies near the #ATG in Syria, April 10, 2020. Coalition and partner forces continue to strike at extremist organizations in Syria despite COVID-19, reflecting the world-wide unity to see an enduring defeat delivered against Daesh #DefeatDaesh pic.twitter.com/z474lPHpuB

— Special Ops Joint Task Force-OIR (Iraq/Syria) (@SOJTFOIR) April 13, 2020
April 11-Boko Haram Insurgency-Chad reportedly ends its military participation with the Multinational Joint Task Force (MNJTF) countering Boko Haram, saying Chadian ground forces will no longer operate outside its borders.
April 12-Yemen War: Yemeni troops recapture a strategic military base on the island of Socotra from the separatist Southern Transitional Council (STC). STC forces, which seized control of the base on February 18, fled before the operation began.
April 12-North Korean leader Kim Jong-Un undergoes surgery. This comes after several weeks of North Korean missile launchings. Kim supposedly collapsed while on a tour of the North Korean countryside. He reportedly underwent heart surgery soon afterwards, but unconfirmed reports describe Kim as possibly in a "vegatative state," and near death. Kim is the third member of his family to rule North Korea, and it is uncertain who would succeed him were he to die. Some reports name his sister as a possible replacement. North and South Korea (and the South's ally, the United States) are technically in a state of war since 1950, as the Korean War (1950-1953) never officially ended. South Korea and the U.S. are very concerned about possible internal conflict in North Korea, if Kim were to die and a power struggle took place in the North.
April 12-Kashmir Conflict: An exchange of artillery fire between India and Pakistan across the Line of Control (LoC), kills three civilians in the Indian portion of Kashmir.
April 13-Libyan War: Libyan government forces recapture the city of Sabratha, and the nearby town of Sorman from General Haftar's forces.
April 13- ISIS War: Iraqi and U.S./Coalition warplanes conducted airstrikes on an ISIS forces in northern Iraq, followed up by Iraqi forces hitting ISIS in ground combat. The U.S. reported 23 dead ISIS fighters.
See also: https://www.inherentresolve.mil/Releases/News-Releases/Article/2153580/isf-coalition-blast-isis-hideout/
April 15-According to the United States Navy, a Russian SU-35 fighter jet intercepts a U.S. Navy P-8A Poseidon, anti-submarine and anti-surface warfare aircraft, flying over the Mediterranean Sea. Russian planes periodically harass and intercept American and other NATO planes in international airspace.
April 15-U.S.-Iran Conflict: Speedboats from the Iranian Revolutionary Guards harass U.S. Navy Ships in the Persian Gulf. This is a continuation of Iranian harassment of USN ships. See the video here: https://youtu.be/dn8Y5KXuQV0
April 17: Philippines Moro Conflict: Abu Sayyaf militants ambush and kill 11 Philippine Army troops and wound 14 others in the southern Sulu Province.
April 19: Libyan War: Turkish-backed GNA forces advance on the key town of Tarhuna in the Murqub District, capturing dozens of Khalifa Haftar loyalists and several vehicles after overrunning a Libyan National Army military camp.
April 19-Nigeria: Gunmen raid multiple villages in Nigeria's Katsina State, killing at least 47 people. The attackers are believed to belong to organized criminal gangs that pillage remote villages and kidnap people for ransom. See: https://www.sbs.com.au/news/armed-bandits-kill-47-people-in-coordinated-attack-in-nigeria
April 19: U.S.-Iran Conflict: The Iranian Revolutionary Guards announces it has increased patrols of the Persian Gulf following a confrontation between its Navy and the U.S. on April 15.
April 21-Insurgency in Mozambique (2017–present):
Mozambique police say 52 male villagers were killed by Islamist militants earlier this month in the Muidumbe District, Cabo Delgado Province, after they refused to join their Islamic Militant rebellion. The rebels align themselves with the Islamic State (ISIS), and seek to create a state based on fundamentalist Islamic beliefs in the oil-rich region in northern Mozambique. To help combat this ISIS-inspired insurgency, the Mozambican government is employing Russian mercenaries of the Wagner Group. The rebels call themselves the Islamic State Central Africa Province (ISCAP).
See also: https://www.theguardian.com/world/2020/apr/22/islamist-group-kills-52-in-cruel-and-diabolical-mozambique-massacre
https://edition.cnn.com/2019/11/29/africa/russian-mercenaries-mozambique-intl/index.html
April 22-Iran's Islamic Revolutionary Guard Corps deploys the country's first military satellite, using a new satellite carrier called "Ghased" ("Messenger").
April 22-President Trump authorizes the US Navy to sink Iranian speedboats in the Persian Gulf if they approach US ships.
April 24-Yemen War: The Saudi-led coalition announces the extension of a unilateral ceasefire by one month to fight the coronavirus pandemic. The Houthis did not accept the coalition's previous ceasefire.
April 24-Congo War: The Democratic Forces for the Liberation of Rwanda launched an attack in Virunga National Park area in the Democratic Republic of the Congo, killing 17 people. The dead include 12 park rangers and five civilians. This is part of the ongoing Kivu Insurgency in the Congo which began in 2004.
April 24- Myanmar Civil War: Unknown gunmen attack the headquarters of the government-backed Pan Say militia in Muse, Shan State. The attackers opened fire with small arms and artillery before fleeing in cars and motorbikes. Some of the artillery shells landed across the border in China, as confirmed by Chinese media. This area of northern Myanmar contains multiple ethnic militias, some of whom are allied to the central government, and some are not. Myanmar has been wracked by multiple internal insurgencies and guerrilla wars since 1948.
See also: https://www.irrawaddy.com/news/burma/gunmen-attack-govt-militia-china-myanmar-border.html
April 25- Yemen War: The separatist Southern Transitional Council (STC) announced self-rule in southern Yemen. The official Yemeni government, which is backed by the Saudi-led coalition describes this move as "catastrophic," and said that this announcement meant a resumption of the southern separatist's armed insurgency against the government. STC forces said that they had taken control of vital institutions in Aden, including the city's sole airport, the central bank, ministries, oil refinery, and the seaports. The southern separatists (who are backed by the United Arab Emirates), and the Saudi and U.S.-backed Yemen government, are technically allies in the civil war with the Iran-backed Houthi Shiite forces that control most of northern Yemen.
April 27- Libyan War: In a televised address, Field Marshal Khalifa Haftar, head of the Libyan National Army (LNA) says that his military forces are accepting a "popular mandate" to rule the country. This declaration sets Haftar up as the ruler of Libya and dismisses the Benghazi-based House of Representatives, the governing body for whom he and the LNA fought for. This announcement comes as his LNA forces have faced several recent battlefield defeats at the hands of the Tripoli-based GNA forces and their Turkish allies.
April 28- Syrian War: A suicide bombing, using a fuel tanker, detonates at a busy market killing at least 46 civilians, including 11 children, in Turkish-occupied Afrin, Syria.
April 28- Protests erupt in major cities across Lebanon over the country's continuing economic problems and related COVID-19 lockdown problems. Banks and vehicles are set on fire, and clashes between the protestors and the army in Tripoli leave around 40 soldiers wounded.
April 29- Myanmar Civil War: Yanghee Lee, the United Nations Special Envoy on Human Rights, accused the Myanmar military of ramping up attacks on civilians in Rakhine and Chin states. The Myanmar government blames Rohingya Muslim insurgents and the separatist Arakan Army for the violence. Ms. Lee claimed that the Myanmar government is intentionally increasing attacks on separatist rebels and implementing human rights abuses and war crimes now, specifically due to world attention being more focused on the COVID-19 pandemic.
https://www.reuters.com/article/us-myanmar-rakhine/myanmar-military-may-be-committing-new-war-crimes-says-departing-rights-envoy-idUSKBN22B1KG?il=0
April 29- Afghanistan War: A suicide bombing in Char Asiab, Kabul, kills three civilians and injures 15.