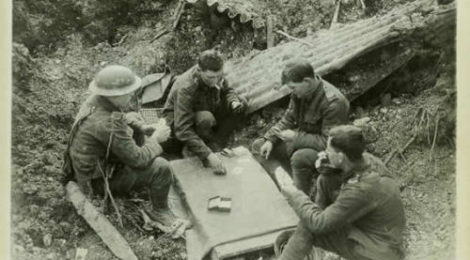 Gambling In The Armed Forces in Wartime
Image Source: http://68.media.tumblr.com/tumblr_m76hmuc7dK1r1zhw1o1_500.jpg
Guest Post by Rebecca Vaxon:
Gambling has a long tradition in military circles and it's not hard to see why. The routine of military life is often characterised by long periods of downtime: patrolling and pulling sentry duty, waiting for orders, all this is a fertile earth for extended periods of boring inactivity. So what better way to alleviate it than with a swift flutter or a card game? Bets were placed for everything – for who's going to pull lavatory duty or for sought after items like cigarettes and chocolate. A lot of people who joined the military, especially frontline staff, already had a risk-taker mentality going into the service, so it makes sense for gambling to be popular among the soldiers.
The American Civil War
During the American Civil War, lice racing was very popular with keen competitors carrying around their prize lice stables in matchbooks. The competing lice would be placed in the middle of a tin plate, with the first lice to go over the lip judged to be the victor.
The World Wars
World War I had a big impact on gambling, with soldiers travelling the world and mingling their hometown gambling habits with the gaming practices they came into contact with abroad. Blackjack, originally a French game, became very popular with American GIs and quickly became a staple diversion for any respectable casino under the name of "Twenty-One." Conversely, the Americans introduced Europe to craps game, which had blown up in popularity in the U.S. during the Prohibition Era.
World War II helped popularize slot machines, stocking a large number of them in overseas clubs. In modern times, the US military operates some ten thousand gaming machines outside of the country, bringing $150 million in annual revenue helping to pay for club upkeep tax-free. Slot games became so popular since then that you can now freely choose no deposit slots at 777SpinSlot.
Vietnam
Moving on to the Vietnam War, the North Vietnamese Viet Cong forces saw the Ace of Spades card as the symbol of death. For this reason, a huge quantity was sent over to American forces in the country. The habit was to lay cards on bodies of the dead Viet Cong troops after a battle, particularly if the enemy had suffered heavy losses. Even with more deniable military incursions into the territories of Laos and Cambodia, if an Ace of Spades was found at the site of a dead Communist troops, there was no doubt as to who had brought cold death to them. Pictures of American infantry from this period will often show soldiers with the card tucked into their helmet band.
People go to war. Soldiers don't know if they'll spend another night in the warmth of their lover's embrace, if they'll get to hug their mothers or watch their children grow up. The stakes are high but these men and women are willing to play. And it's hardly surprising that they like to take a risk with dice, cards, and the slots as well.