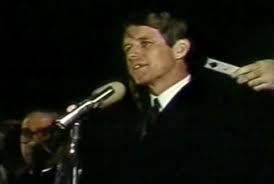 Bobby Kennedy Speech on the Death of Martin Luther King in 1968
Bobby Kennedy, the brother of the assassinated President, and, at the time of this speech, himself the leading candidate for the Democratic presidential nomination in 1968, gave a heart-felt speech in Indianapolis the night of Martin Luther King's murder.
In this speech, Kennedy called for healing and understanding. He also publicly referenced his brother's death five years earlier, a topic that he had avoided discussing publicly.
Historically speaking, the late 1960s, especially 1968, was a very violent, divisive time in American history. Looking back from the vantage point of July, 2016, it can arguably be said that the summer of 2016 is probably the most violently divisive time in the U.S. since 1968. With that in mind, the gentle words of Bobby Kennedy, who himself would be shot and killed only two months later, are appropriate for these troubled times.
Below is the text of Bobby Kennedy's remarks following the death of Martin Luther King, Jr.
Bobby Kennedy, who most likely would have been the Democratic candidate in that year's election, is considered to have been a very likely winner of the election, and probably would have been president instead of Richard Nixon, the eventual winner of the 1968 election. History would have been quite different. Bobby Kennedy's speech that warm summer night in 1968, calling for peace, love, and understanding, is as applicable today, as it was then.
Below is the video of Bobby Kennedy's speech that night, April 4, 1968.