President George H.W. Bush
41st President of the United States
(b. 1924)
"America is never wholly herself unless she is engaged in high moral principle. We as a people have such a purpose today. It is to make kinder the face of the Nation and gentler the face of the world".--President George H. W. Bush, Inaugural Address, Jan. 20, 1989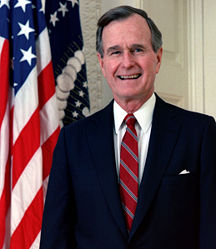 This is America ... a brilliant diversity spread like stars, like a thousand points of light in a broad and peaceful sky.
--President George H. W. Bush, Acceptance speech upon accepting the Republican Party nomination, August 18, 1988
George Herbert Walker Bush- (June 12, 1924)
George H. W. Bush was the 41st President of the United States, and holds the distinction of being the father of another President (George W. Bush), and two governors (George W. and Jeb Bush). George H. W. Bush first won national office as Ronald Reagan's Vice-President, and later won the Presidency in his own right in 1988. During Bush's single term in office, he ordered the Invasion of Panama in 1989, turned back the Iraqi Invasion of Kuwait (The Gulf War), and sent U.S. forces into Somalia on a humantarian mission. Bush was defeated by Bill Clinton in the 1992 election, but remained involved in Republican politics in his retirement, especially involved in the campaigns of his sons as they ran for governor, and during George W. Bush's two successful elections as president.
In November, 2012, former President George H.W. Bush was admitted to a hospital in Houston with bronchitis-like symptoms. He remained in the hospital through Christmas, and on December 26, was placed in intensive care, as President Bush had also developed a fever. President eventually recovered, and again made the news in 2016 when he reportedly told a visitor, who mentioned on social media, that he was planning on voting for Hillary Clinton in the presidential election, rather than the Republican candidate Donald Trump. President Bush's son, former Governor Jeb Bush, was defeated by Trump in the 2016 Republican primaries, leaving quite a bit of bad feelings between the Trump camp and the Bush family.
Books By George and Barbara Bush:
Family, Career, and Personal Highlights of President George H.W. Bush
Family, Career, and Personal Highlights
Prescott Sheldon Bush (1895-1972)--Father
Dorothy Walker Bush (1901-1992) -- Mother
Barbara Pierce Bush (b. June 8, 1925)-- Wife,wed on January 6, 1945
Children:
President George W. Bush (b. 1946)--Son

Pauline Robinson "Robin" Bush (1949-1953 )--Daughter

Governor John Ellis "Jeb" Bush (b. 1953)--Son

Neil Mallon Bush (b. 1955)--Son

Marvin Pierce Bush(b. 1956)--Son

Dorothy Bush Koch (1959)--Daughter
Religion:
Episcopal
Nicknames:
"Poppy," "41," "Bush 41"
Siblings
Prescott Bush, Jr. (b. 1922)--Brother

Nancy Walker Bush Ellis (b. 1926)--Sister

Jonathan Bush (b. 1931)-Brother

William H.T. "Bucky" Bush (b. 1938)--Brother
Education:
Class of 1941: Phillips Academy (Andover, Mass.)

--president of the senior class

--secretary of the student council

--president of the community fund-raising group

-- member of the editorial board of the school newspaper

--participated in baseball and soccer (captained both teams)

1948: BA Economics, Yale University.
Career/Occupation:
1951: Businessman (Oil Industry)

--founded Bush-Overby Oil Development Co.

--co-founded the Zapata Petroleum Corporation

1954-1964: President of Zapata Offshore Co.

Zapata Offshore Company a was subsidiary of Zapata Petroleum Corporation which specialized in offshore drilling.. Split off into an independent company in 1958.

1964-1966: Chairman of Zapata Offshore Co.
Military Service:
1942-1945 (World War Two): United States Navy
--served as a pilot in the Fast Carrier Task Force

--served as the assistant navigator, Athletic Officer, and antiaircraft battery officer

While Bush served on the USS San Jacinto, the ship:

--took part in one of the largest air battles of the war to date in the Battle of the Philippine Sea

--air operations against the Japanese in the Bonin Islands

--Bush piloted a Grumman TBM Avenger aircraft that attacked the Japanese installations on Chichijima (Sept. 2, 1944)

--Shot down during the Chichijima operation, Bush was rescued by the USS Finback

--Bush participated in rescuing other pilots while on the USS Finback over the next month after his own rescue.

--returned to the USS San Jacinto in November, 1944 and participated in operations in the Philippines Islands

--Overall, Bush flew 58 combat missions

--reassigned to Norfolk Navy Base trained new torpedo pilots.

Bush's Service Medals and Citations:

--Distinguished Flying Cross

--Air Medal (3)

--Presidential Unit Citation.
Political Career:
1964: Chairman of the Republican Party for Harris County, Texas

1964: Candidate for the U.S. Senate from Texas (lost to incumbent Democrat Ralph Yarborough)

1966-1971: United States House of Representatives (R-Texas)

1970: Candidate for the U.S. Senate from Texas (lost to Democrat Lloyd Bentson)

1971-1973: U.S. Ambassador to the United Nations

1973-1974: Chairman of the Republican National Committee

1974-1975: Chief of the U.S. Liaison Office to the People's Republic of China (de facto Ambassador)

1976-1977: Director of the Central Intelligence Agency (CIA)

1980: Ran for Republican Presidential Nomination. Lost to Ronald Reagan, but was chosen as the Vice-Presidential nominee

1981-1989: Vice-President of the United States (R)

1989-1993: President of the United States (R)
Clubs and Organizations (membership):
-- Skull and Bones secret society (Yale)

-- Delta Kappa Epsilon fraternity (president)

--member of the Phi Beta Kappa academic honor society (at Yale)
Athletic Career:
-Captain the Yale baseball team

--played first base

--played in the first two College World Series in 1947 and 1948
George H.W. Bush's Speeches & Documents
The Bush Administration: The Cabinet, Aides, & Advisors
The Cabinet--The President's Cabinet is made up of the appointed leaders, or "Secretaries" of each of the Executive Departments.
The National Security Council --Advises the President on national security and foreign policy.
Links and Resources on George H.W. Bush
Books About George H. W. Bush:
Predecessor in Office:

George H. W. Bush's Offices:

Successor in Office:

Preceded by:

John V. Dowdy

United States Representative for the 7th Congressional District of Texas

1967–1971

Succeeded by:

Bill Archer

Preceded by:

William E. Colby

Director of Central Intelligence (CIA)

1976–1977

Succeeded by:

Adm. Stansfield Turner

Preceded by:

Walter Mondale

Vice President of the United States

Acting President: uly 13, 1985

January 20, 1981 – January 20, 1989

Succeeded by:

Dan Quayle

Preceded by:

Ronald Reagan

President of the United States

January 20, 1989 – January 20, 1993

Succeeded by:

Bill Clinton

Preceded by:

Ronald Reagan (1980)

Republican Party Presidential nominee

1988 (won), and 1992 (lost)

Succeeded by:

Bob Dole (1996)

Preceded by:

Bob Dole (1976)

Republican Party Vice-Presidential nominee

1980 (won)

Succeeded by:

Dan Quayle (1992)
Copyright © 1998-2012 Roger A. Lee and History Guy Media; Last Modified: 12.27.12

"The History Guy" is a Registered Trademark.

Contact the webmaster