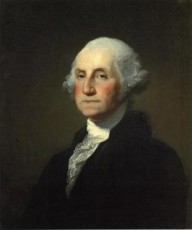 This Day In History February 22
American History
1856 – The Republican Party opens its first national gathering in Pittsburgh, Pennsylvania
1862 – Jefferson Davis is inaugurated for a six-year term as the first (and only) President of the Confederate States of America in Richmond, Virginia.
1872 – The Prohibition Party holds its first national convention in Columbus, Ohio. The party nominates James Black as its presidential nominee.
1924-President Calvin Coolidge is the first President to deliver a radio broadcast from the White House.
Americans Born on February 22:
1732 – George Washington, American general and politician, 1st President of the United States (d. 1799). Washington's birthday later becomes an American national holiday
1778 – Rembrandt Peale, American painter (d. 1860)
1892 – Edna St. Vincent Millay, American poet and playwright (d. 1950)
1907 – Robert Young, American actor (d. 1998)- Best known as for acting in the TV shows Father Knows Best and Marcus Welby, M.D.
1932 – Edward "Ted" Kennedy, American politician, Senator, and candidate for the presidency. Brother to President John Kennedy and Senator Robert Kennedy (d. 2009)
1934 – George "Sparky" Anderson, American baseball player and manager (d. 2010)
1944 – Jonathan Demme, American director, producer, and screenwriter
1944 – Robert Kardashian, American lawyer (d. 2003)-Famous for defending OJ Simpson and as the father of celebrity Kim Kardashian
1947 – Richard North Patterson, American author
1950 – Julius Erving, American basketball player
1955 – David Axelrod, American political adviser to both President Bill Clinton and candidate Barack Obama
1968 – Jeri Ryan, American actress (Star Trek)
1972 – Michael Chang, American tennis player
1975 – Drew Barrymore, American actress, director, producer, and screenwriter
American Deaths on February 22
1890 – John Jacob Astor III, American businessman (b. 1822)
1965 – Felix Frankfurter, American Supreme Court Justice (b. 1882)
1987 – Andy Warhol, American painter and photographer (b. 1928)
1994 – Papa John Creach, American musician (Jefferson Airplane, Hot Tuna, and The Dinosaurs) (b. 1917)
2002 – Daniel Pearl, American journalist (b. 1963)-killed by terrorists in Pakistan
2007 – Dennis Johnson, American basketball player (b. 1954)
World History
1371 – Robert II becomes King of Scotland, beginning the Stuart dynasty.
1848 – The Revolution of 1848, begins in France. It would soon spread to many parts of Europe.
1948 – Communist revolution in Soviet-Occupied Czechoslovakia.
2011 – An earthquake measuring 6.3 in magnitude hits the city of Christchurch, New Zealand, killing 185 people
Military History
1847 – Mexican–American War: The Battle of Buena Vista takes place in Mexico.
1915 – World War I: Germany institutes unrestricted submarine warfare. This is important because this type of submarine warfare was a leading factor in the decision by the United States to enter World War One in 1917
2002 – Angolan rebel leader Jonas Savimbi is killed in a military ambush. The death of Savimbi allows the long-running Angolan Civil War to conclude
Famous February 22 Births:
1810 – Frederick Chopin, Polish pianist and composer (d. 1849)
1943 – Horst Köhler, German politician, 9th President of Germany
1962 – Steve Irwin, Australian zoologist and television host (d. 2006)
1963 – Vijay Singh, Fijian professional golfer
Famous February 22 Deaths:
1797 – Baron Münchhausen, German military officer (b. 1720)
2002 – Jonas Savimbi, Angolan military leader, founded UNITA (b. 1934)
Sports History
1959 – Lee Petty wins the first Daytona 500
1980 – In the 1980 Lake Placid Winter Olympics, the so-called "Miracle on Ice" occurs, in which the United States hockey team defeated the heavily favored Soviet hockey team by a score of 4-3
1992-Coach Don Nelson wins his 700th NBA coaching victory
Music History
1956 – Elvis Presley's song "Heartbreak Hotel" entered the charts. This was the first time Elvis had a song on the music charts
1963- The Beatles song "Please Please Me" becomes their first Number One hit in the UK. Also on February 22, 1963, the Beatles create their Northern Songs publishing company.
1978 – Sid Vicious and Nancy Spungen were arrested in New York and charged with drug possession.
1993 – Radiohead released their first album, "Pablo Honey"
1968 – Genesis released its first single, "The Silent Sun"
Movies and Television History
1965 – Filming began for the Beatles' second movie, "HELP!", in the Bahamas.