Political Biography
President Harry Truman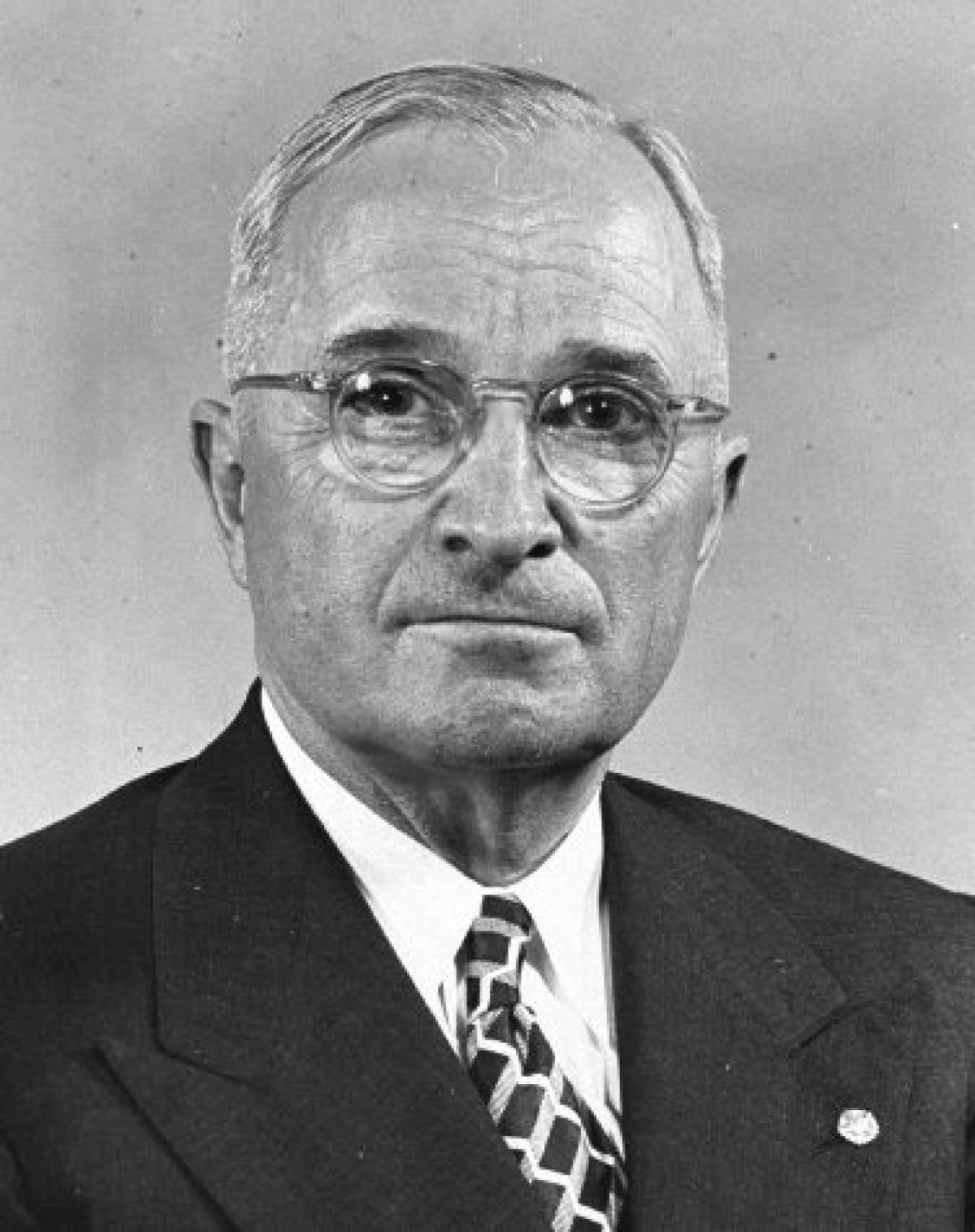 Harry S Truman served as the 33rd President of the United States from 1945 to 1953. He was a U.S. Senator representing Missouri when called upon by President Franklin D. Roosevelt to replace incumbent Vice-President Henry Wallace on the ticket as his running mate. Roosevelt and Truman won the 1944 Presidential Election, and Truman served as Vice-President a little over three months before becoming President upon the death of Roosevelt,
Truman's time as President is one of the most significant eras in American history. He served as President during the last five months of World War Two, and he had to make the decision on how to use the new atomic bombs (that he did not even know about until after becoming President). He presided over the start of the Cold War with the Soviet Union, and he decided dto support South Korea in repelling the invasion by Communist North Korea.
A partial list of significant decisions and actions by Truman as President include:
he decision to drop atomic bombs on the Japanese cities of Hiroshima and Nagasaki (1945).
Presiding over the birth of the United Nations (1945).
The Marshall Plan, which provided much needed economic aid to war-torn Europe.
The decision to provide significant military aid to Greece in the Greek Civil War against Communist insurgents. This was part of the Truman Doctrine of containing the spread of Soviet and Communist influence around the world.
The Berlin Airlift (1948). The first major showdown between the U.S. and the Allied nations with the Soviet Union in the Cold War.
Put into effect Executive Order 9981, in July 1948, desegregating and requiring equal opportunity in the Armed Forces. Prior to this, African-American troops served in segregated units. Executive Order 9981 integrated the military and provided the opportunity for non-white members of the military to be promoted and have the same opportunities and rights as white troops.
The establishment of the North Atlantic Treaty Organization (NATO) with Canada and the European democracies to aid each other in countering the Soviet Union. Truman appointed General Dwight Eisenhower as the first NATO commander.
Truman sent U.S. troops to intervene in the Korean War in 1950 after South Korea was invaded by North Korea (with assistance from the Soviet Union and Communist China).
Truman survived an assassination attempt on November 1, 1950, by two Puerto Rican nationalists.
Political, Personal, and Career Information on Harry Truman
The Wars of Harry Truman:
Wars Harry Truman Took Part In as a Soldier:
World War One (1917-1918)
American Wars and Conflicts of Harry Truman as Commander in Chief:
World War Two (1941-1945)-Truman was President during the last 5 months of the war.
The Cold War
Berlin Airlift (1948)
The Korean War (1950-1953)
Personal Information on Harry Truman
Parents:
John Anderson Truman (1851–1914) - Father
Martha Ellen Young Truman (1852–1947)- Mother
Siblings:
John Vivian Truman (1886-1965)-Brother

Mary Jane Truman (1889-1978) -Sister
Spouse:
Children:
Mary Margaret Truman (1924-2008) -Daughter
Religion:
Presbyterian
Education:
1901: Graduated from Independence High School
1901: Attended Spalding's Commercial College for one semester
1923–25: Took night courses toward a law degree at the Kansas City Law School. Did not graduate
* NOTE: Truman was the last President who did not graduate from college.
Career/Occupation:
Farmer
Haberdasher/Businessman
Military Service:
1905-1911: Missouri Army National Guard
1917-1919: Missouri Army National Guard/U.S. Army during World War One. Truman saw combat in France in command of an artillery battery. Entering the war as a Lieutenant, he was later promoted to Captain.
1920-1953: Officers' Reserve Corps. Truman remained an officer in the Field Artillery Reserve until he retired with the rank of Colonel on January 31, 1953.
Political Career:
Party Affiliation: Democrat
1900: Page at the 1900 Democratic National Convention in Kansas City (his father was active in local Democratic politics and got Harry the Page job)
1922: Ran for County Judge position (won)
1922-1924: County Court judge of Jackson County
1924: Ran for re-election as County Judge position (lost)
1926-1935: Presiding Judge of Jackson County, Missouri
1933: Appointed as Director of the Federal Re-Employment program (part of the Civil Works Administration) in Missouri.
1934: Ran for U.S. Senator from Missouri.
1934 Democratic Primary Election: Defeated two incumbent Democratic Congressmen (John J. Cochran and Jacob L. Milligan).
1934 General Election: Defeated the incumbent Republican Senator Roscoe C. Patterson.
1935-1945: U.S. Senator from Missouri
1944: Ran for Vice-President as the Running Mate to incumbent President Franklin D. Roosevelt
1945 (April 12): Becomes President upon the death of Franklin Roosevelt
1945-1953: President of the United States
1948: Defeated Thomas Dewey (R) in the Presidential Election
1952: Democratic Primary for the Presidency--While not really wanting to run for a second full term, Truman had tried to recruit potentially strong candidates to run for the Democratic nomination. All of his favored candidates either declined to run, or, in the case of General Eisenhower, chose to run as a Republican. Truman allowed his supporters to enter his name in the New Hampshire Primary, only to lose badly to Senator Estes Kefauver, a candidate who Truman despised. Eighteen days after the New Hampshire Primary, Truman announced he would not be a candidate for re-election. He eventually convinced Governor Adlai Stevenson to run.
Post Presidency Facts About Harry Truman:
After leaving the Presidency, Truman declined to profit from his position by serving on corporate boards or endorsing products. He felt that to do so would be demeaning to the office of the presidency. His only pension was from his army service. Due in part to Truman's financial situation, Congress passed the Former President's Act, which provided a $25,000 dollar yearly pension to former presidents.
Truman raised private funds to build the Truman Presidential Library, and then donated it to the Federal government. This began the tradition of establishing Presidential Libraries. Truman was instrumental in passage of a bill in Congress (he testified before Congress on this issue), appropriating funds for future Presidential Libraries.
Harry and Bess Truman were issued the first two Medicare cards at the signing ceremony by President Lyndon Johnson at the Truman Presidential Library in 1965. Johnson did this to honor the Truman's fight for government health care while during his presidency.